Way of thinking regarding Sustainability
Aiming for sustainable growth
In engaging in corporate activities, we recognize that management promoting responses to ESG (environment, society and governance) issues will lead to sustainable growth.
Accordingly, we take various initiative along the goals to be achieved in each ESG in management and ESG Basic Policy which we identified issues and formulated.
ENVIRONMENT
We make efforts for corporate activities rooted in environmental preservation and to provide products and merchandise which create a better environment.
GOVERNANCE
With maximization of corporate value, we have the system that reinforce and enrich corporate governance.
From the Establishment of Corporate Identity (CI) to ESG Basic Policy Inherited spirit
KONDO IRON WORKS Co.,Ltd. which started as a private concern, changed its company name in 1989, almost 30 years ago.
While it was a time when the concept of ESG has yet to be born, our corporate identity was established with the wish to "Be a company which continues to develop regardless of how society and the economy change, and which is indispensable for society."
The sprit remains the same today, and is inherited in the ESG Basic Policy.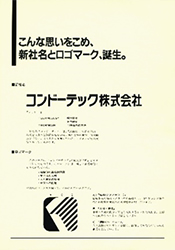 Verification of materiality and the process of formulating the ESG Basic Policy
We formulated ESG Basic Policy by below process.
Materiality was sorted out by considering SDGs [sustainability of global environment, sustainability of human society and elimination of poverty] published in the 2015 Paris Agreement and taking into consideration the relevance to 17 SDGs goals.
STEP 1
Verification of materiality and the process of formulating the ESG Basic Policy
We identified potential items for our issues, and identified issues for each stakeholder referring to various guidelines (IIRC and Guidance for Collaborative Value Creation*)
*IIRC: Framework within the International Integrated Reporting Council
*Guidance for Collaborative Value Creation: Guidance for information disclosure and improving quality of dialogue with investors
STEP 2
Judgement on the importance of each item
We evaluated the importance of issues identified in STEP 1 with the importance for stakeholders (vertical axis) and the importance for the Company (horizontal axis), and selected items of high importance as issues.
STEP 3
Identification of materiality in ESG and policy formulation
At the Board of Directors, we discussed again the order of priority for important items selected in STEP 2, and based on the result, identified materiality and decided the ESG Basic Policy.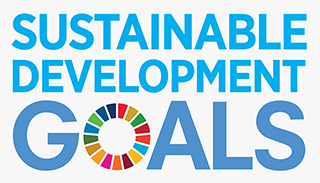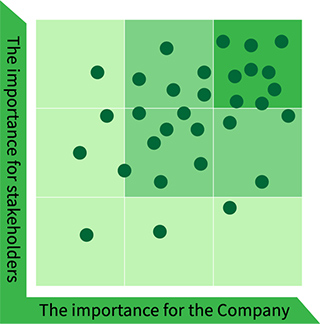 Decision on materiality (key issues) and ESG Basic Policy
We decided on materiality as follows after the three steps. We will regard this materiality as the ESG Basic Policy and link it to sustainable corporate growth by incorporating it in the management strategy.
ESG
Materiality
Relevant SDGs
Environment
1. Provision of optimal products and merchandise for environmental measures
Products and merchandise handled by the Company(Presentation of environment related products and merchandise)
2. Business activities paying attention to the environment
Initiatives for environmental protection and energy-saving
Management of emissions (material balance)
Society
1. Product liability and quality assurance
Quality control of products and merchandise
Stance for safety and security
2. Procurement and provision of high-value-added products,merchandise and services
Provision of better products,merchandise and services for customers
3. Communication with shareholders and investors
Engagement with shareholders
4. Appropriate information disclosure and security
Stance for information disclosure
Information security measures
5. Co-existence with local communities
Operating site opening plan
Response to disasters and contributions to them
6. Safety measures and work-style reform
Risk control for disasters and others
For employees' health, safety and hygiene
7. Human resources development and diversity
Policy on human resource development
Diversity
Employee benefits
Governance
1. Strengthening of corporate governance
Corporate governance
2. Thorough compliance
Compliance Basic Policy