ENVIRONMENT
Environmental Policy
Since its foundation in 1953, KONDOTEC has created and co-existed with future environmental value and engaged in business activities paying due consideration to the environment for the realization of a sustainable society, while contributing to the creation of an affluent society through the enhancement of social infrastructure by providing products and merchandise to various industries over a half century.
1. We will comply with legal regulations and matters agreed on by the Company for the environment regarding business activities, products and services.
2. We will endeavor to reduce environmental burdens, reduce environmental pollution risks, and protect biological diversity and ecological systems by saving energy and resources, promoting recycling, reducing waste, reducing the consumption of chemical substances and engaging in green procurement.
3. We will continue to improve our activities by utilizing the environmental management system, setting environmental targets to achieve the Environmental Policy, conducting evaluations on environmental performance, and reviewing them regularly.
4. We will thoroughly inform all employees of the Environmental Policy and endeavor to conduct necessary education and enlightenment activities to engage in environment conservation activities.
Provision of Optimal Products and Merchandise for Environmental Measures
Expansion of the handling of environment-related merchandise
(Presentation of products and merchandise)
Biodegradable high-performance alkaline cleaner Green sweeper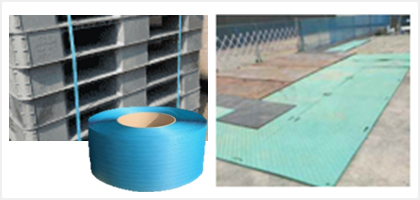 This is a biodegradable high-performance cleaner, water-soluble and phosphate-free, satisfying everything from cleaning power, environment to cost.It does not have a negative effect on metals, rubbers and plastics, either.
Hand soap Eco-pro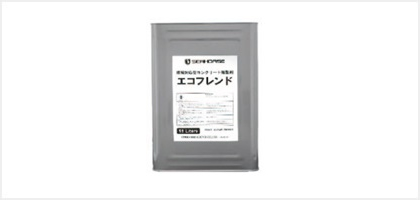 With the heightened movements especially in the U.S. and Europe to eliminate microbeads (plastic particles in facial cleansers, etc.), this is constituted of highly biodegradable and environment-friendly natural scrubs originating from wood.
Oil hunter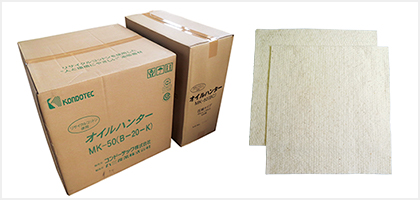 This is an eco-mark certified oil absorption mat using recycled materials. It is used for the disposing of oil at the time of marine pollution caused by oil spills and at factories which use oil.
Oil gator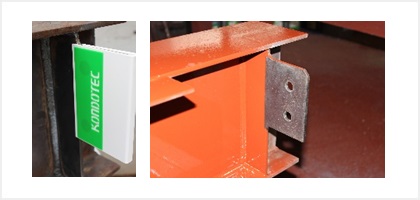 This is a powder oil absorbent using 100% natural cellulose. With the addition of microbes capable of dissolving mineral oil and nutritional supplements, it can work as a material for improving soil.
Environment-friendly Corporate activities
Initiatives for Environmental protection and Energy-saving
Energy-saving initiatives(LED installations, Achieving 10% cut in power usage)
In 2015, we completed installing LED lighting in factories and are currently in the process of installing LED lighting in our operating sites. Having completed installation in operating sites we own,we will further proceed with LED installation in operating sites we lease.
These LED installations are being carried out in cooperation with Sanwa Denzai Co., Ltd., our subsidiary and wholesaler of electric equipment.
We promote transparency of power usage by making the monthly power usage information open to all operating sites and conducting analyses and comparisons of data. We launched the cool biz and warm biz initiatives with a view to reducing power usage in our operating sites by 10% year on year and have been updating energy-saving activities daily.


Installation Solar power generation
Our two factories and Sanwa Denzai Co., Ltd. operate the solar power generation system as the installation model in our power sales business.
Our subsidiary Sanwa Denzai Co., Ltd. and our Structural Steel Sales Division handle parts of solar power generation systems and frames respectively, and we pursue sales by leveraging synergistic effects.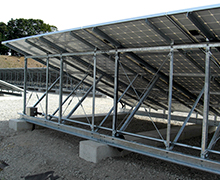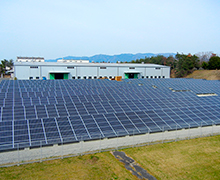 Forest preservation activities and Cleaning activities
As part of our education for new employees, we participate in forest preservation activities as volunteers. With the cooperation of Osaka Green Trust, we are involved in thinning work and pedestrian road development.
As part of our CSR initiatives, employees volunteer to clean the neighborhood of our head office in an effort to contribute to making the local community beautiful.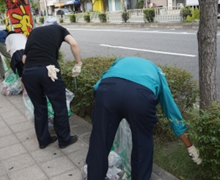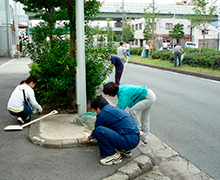 PET bottle cap collection activity
We organize a cap collection activity where we separate and collect PET bottle caps that are otherwise incinerated, and we donate the profit from the sales of caps to recycling business operators.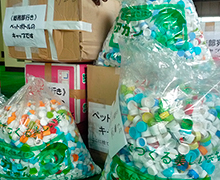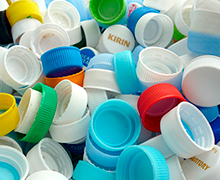 Participation in "Fun to Share"
"Fun to Share" is a climate change campaign organized by the Ministry of the Environment with a view to realizing a low-carbon society. In order to protect the environment leading to the future, we participate in this activities run under the key phrase, "realizing a low-carbon society with the spirit of MOTTAINAI."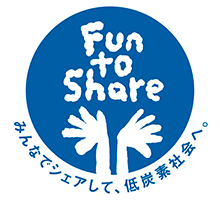 Management of emissions(Material balance)
Energy consumption comparison
The table presents a year-on-year comparison of unit of energy consumption, which is reported to the Kansai Bureau of Economy, Trade and Industry each year. *KONDOTEC non-consolidated
| | 2016 | 2017 | 2018 | 2019 | 2020 | Change in 5-year average consumption rate |
| --- | --- | --- | --- | --- | --- | --- |
| Year-on-year change(%) | 98.2 | 105.6 | 98.2 | 98.0 | 104.5 | 101.6 |
Material balance
The following illustrates the overall input-output balance and expenditures and revenues during the course from research and development to manufacturing within the business activities of KONDOTEC.
* Actual results of four factories are used.
INPUT
Raw
materials

Iron and steel
31,313t
Coating
material
116.1m3

Energy

Electricity
5,774 thousand kWh
Natural gas
0m3・N or PJ
LPG
59t
Diesel fuel
6㎘
kerosene
20㎘
Heavy oil
2㎘
Irrigation
water
Water
4,700m3
OUTPUT
Production
Iron & steel
products

30,533t
Air emission
CO2

2,307t
Industrial
waste
/byproduct
Recycled
volume

2,654t
Amount of
outsourced
disposal

201t
Drainage
Water
4,700m3
* FY 2020
<Expenditure relating to environmental protection>
Kanto Factory:Disposal expenses of industrial/general waste
               (2,761 thousand yen)
               Expenses of environmental management from document review to on-site review
               (1,421 thousand yen)
Shiga Factory:Filter-type dust collector (3,350 thousand yen)
<Revenues relating to environmental protection>
Revenues in business for recycling waste (e.g. steel scraps) generated from major business activities or recycling used products, etc. (52,261 thousand yen)